When stifling summer or frigid winter temperatures set in, homeowners have a tendency to reach for the thermostat and crank it up or down in order to stay comfortable. A few weeks later, they discover that their energy bill has skyrocketed and wonder why it drastically increased.
The equation is simple; the more your indoor temperatures differ from the temperature outside, the more expensive your utilities will be. It can be difficult to find a temperature range that keeps your house cozy without raising your expenses, but fortunately, the US Department of Energy has identified some of the optimal energy-saving temperatures for your home. Additionally, we've outlined some tips and alternatives to heating and cooling that will make things more comfortable during the extreme seasons, without raising your bills.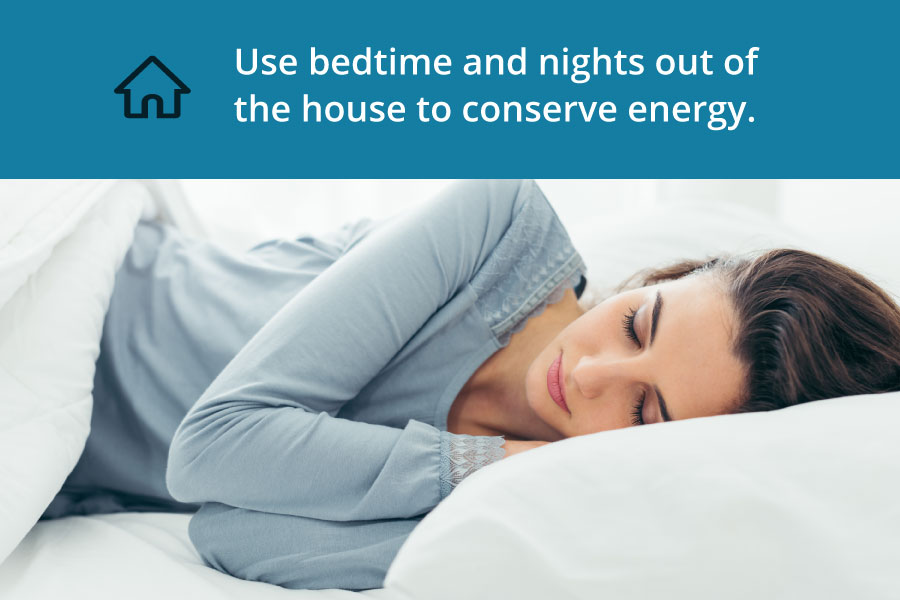 #1 USE BEDTIME AND NIGHTS OUT OF THE HOUSE TO CONSERVE ENERGY.
When your family is asleep or away from the house, you don't need the HVAC system to run at maximum capacity. Even though you might enjoy coming home to a pre-heated or -cooled home, you'll save a lot of money by giving your heating and cooling system a break while you aren't there. In fact, by raising your indoor temperature just 7 to 10 degrees when you leave the house for a few hours, you will be able to save up to 10% on your cooling bill.
According to a study by the National Institute of Health, the body experiences more restful sleep at night when it reaches thermoneutrality — a state of thermal balance between the person and their environment. In order to achieve this state, the surrounding nighttime environment should rest at 86 degrees with minimal clothing and bedding, or 60 to 66 degrees with pajamas and light covers. So, one way to get a good night of sleep and save on energy during the summer is to raise the thermostat to a warm temperature of, say, 80 degrees, dress in lighter pajamas and cover yourself with a sheet. If this is too toasty, use the soft breeze of a fan to lull yourself to sleep. In the winter, bundle up and turn the thermostat down.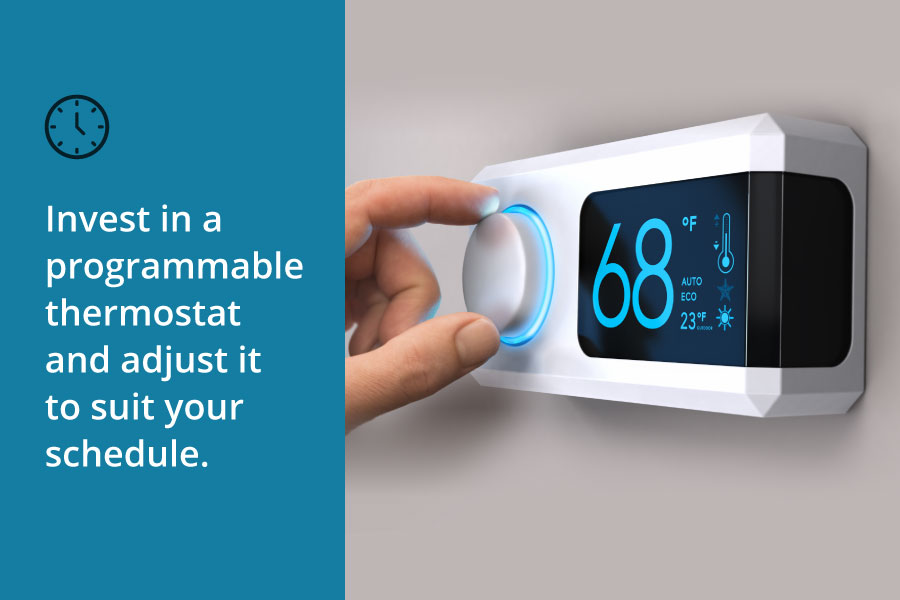 #2 INVEST IN A PROGRAMMABLE THERMOSTAT AND ADJUST IT TO SUIT YOUR SCHEDULE.
If you don't want to manually turn off the thermostat every time you go out for the day or retire to bed, you might consider investing in a programmable thermostat like Nest's learning thermostat. This saves running the system while you aren't there, but you also don't return home or wake up to a stuffy or chilly house. The thermostat will have begun to warm or cool the environment shortly before you arrived, or just before your wake-up time.
As you program your thermostat temperatures for your at-home time, keep the US Department of Energy's seasonal recommendations for resting temperatures in mind. When you're at home in the summer, they recommend staying at 78 degrees. This might seem like an uncomfortable indoor temperature for the summer, but it actually prevents heat from flowing into your home as quickly and reduces the energy required to cool things down when you do decide to lower the thermostat. In the winter, 68 is a good temperature to stay at when you're at home, but you can lower it slightly when you plan to be away from home — just make sure to keep it above 55 degrees to keep your pipes from freezing.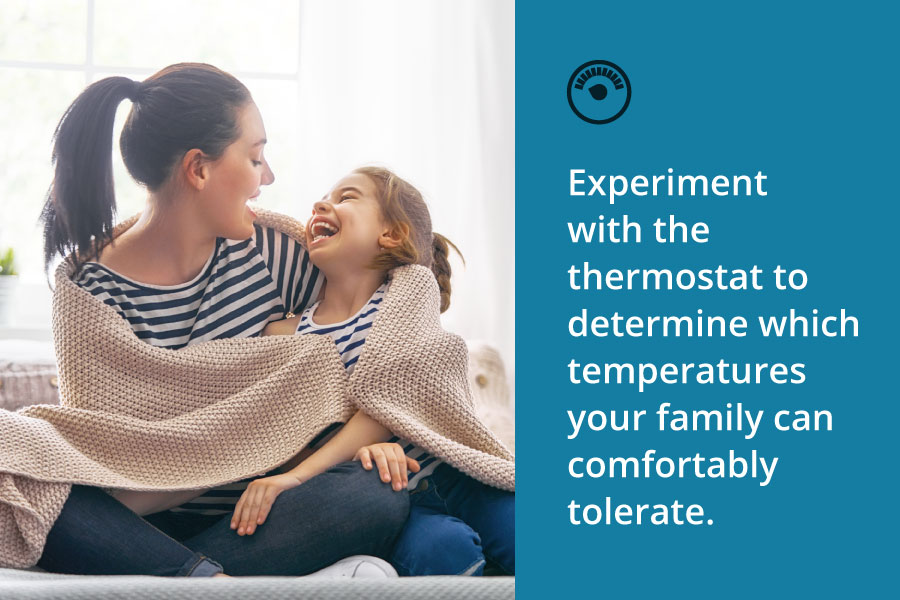 #3 EXPERIMENT WITH THE THERMOSTAT TO DETERMINE WHICH TEMPERATURES YOUR FAMILY CAN COMFORTABLY TOLERATE.
If you are concerned about your growing energy bills, it's time to experiment. See how much you can wean your family off of the HVAC system by turning the temperature up or down by just a couple of degrees each day over the course of a few days until it reaches the energy-saving temperatures recommended by the US Department of Energy. The American Society of Heating, Refrigerating, and Air-Conditioning Engineers has stated that people are most comfortable between 73 and 79 degrees in light clothing. Your family may not even notice a 4-degree temperature change if it occurs within this range.
Once you reach a temperature that your family reacts negatively to, however, you'll know you've found your limits. Stay just above or below that temperature from there on out to save on power.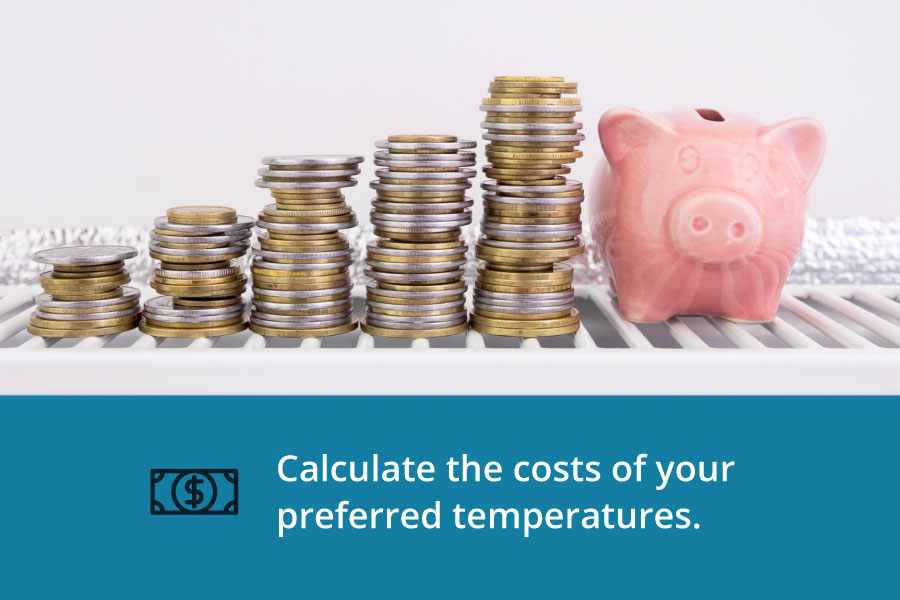 #4 CALCULATE THE COSTS OF YOUR PREFERRED TEMPERATURES AND MAKE INFORMED CHANGES.
Before you settle on a summer or winter temperature for your home, consider this: for every degree you raise or lower the thermostat, you are either raising or lowering your HVAC power costs by 3 to 5%. For example, if you keep indoor temperatures at 71 during the summer and your current bill averages $150, raise the thermostat just 4 degrees and you could save up to 30 dollars on the next bill.
While this might not sound like much, the savings add up over time to a substantial amount of money. If the savings aren't worth it to you, having this information will at least help you feel more in control of your HVAC bills and allow you to make more informed decisions about your heating and cooling usage.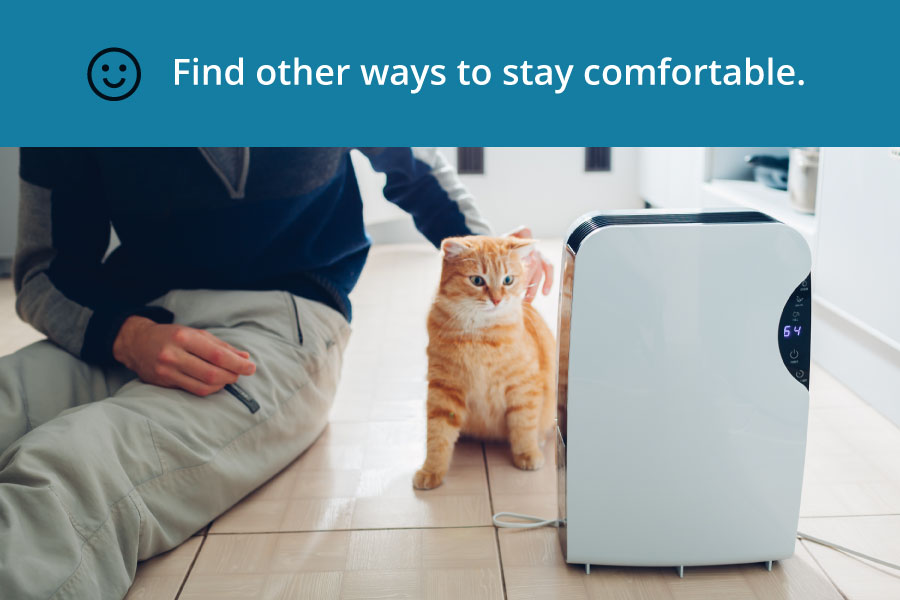 #5 FIND OTHER WAYS TO STAY COMFORTABLE.
When you've decided to cut back on HVAC costs, it's time to find new ways to stay comfortable in the heat or the cold that won't make you suffer and won't cost you anything at all. Here are some top tips:
Summer:
Make use of fans
Use a dehumidifier to cool the house
Wear lightweight clothing
Keep blinds closed during the day
Make sure all weatherstripping seals properly
Eat a chilled treat
Stay hydrated
Winter:
Dress in layers, wear socks, and use blankets
Cover hard floor surfaces with rugs
Seal all cracks in windows and doors
Keep curtains and doors closed
Cook with the stove and the oven
Spend time upstairs — the destination for rising heat
Drink warm beverages
For further advice on lowering your HVAC expenses, contact our expert team at peppersheatingandair.com.TAGS: HVAC OPTIMAL TEMPERATIURE, SAVE MONEY ON POWER BILL